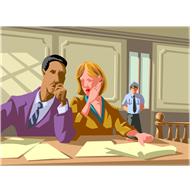 Student disciplinary tribunals are notoriously difficult to win, a recent study showing that 89 to 91 percent of students are found guilty and lose their tribunal hearing.
Good Georgia Education Lawyer has been very fortunate to have a solid track record of success, including this past week where she won a student disciplinary tribunal for her client who was facing expulsion or alternative school.
Ms. Oinonen and her clients were very gratified and the fairness and objectivity of the hearing officer who found her client to not be in violation of the code of conduct charges and determined that "no further action" was needed against him in terms of discipline. The student was permitted to return to school and make up his school work.