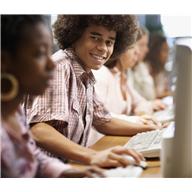 Good Georgia Lawyer regularly handles education issues, student due process and disciplinary hearings, and teacher/administrator employment matters. Recently, we were very grateful for this testimonial that came from the mother of a son who was being violently assaulted as a bullying victim. Here is a thank you letter she wrote to us:
"This is a testimony of the level of of assistance I received when it came to my son. I could never thank you enough because when I came to you I was at a crossroads about my sons future in middle school as well as in High school because of his issues with bullying . He had been bullied since sixth (6th) grade because of questions regarding his sexuality and because he was coming from a private school setting. My son had been jumped and assaulted on numerous occasions but also threatened because of his diversity and also because of his unfamiliarity to a public school setting. Julie, you assisted me with this issue and further checked to make sure that his transition was easy when it came to a different setting and also a high school setting.
Unfortunately , that wasn't the case, even going to a different Dekalb County High School, because my son was different and had been labeled as "NOT" gang affiliated he was targeted yet, again. Not because of his sexuality but because he was fortunate. In the midst of all of this I was forced to turn to you (Julie} once again. My son had been jumped by gangs on two (2) separate occasions . . . My son suffers from chronic asthma and was seriously injured and a victim of a brutal assault assaulted twice in one (1) week. Thankfully you (Julie) were at my aid, yet again. and advocated for my son's rights and made sure that justice was met on his behalf.
Today, my son is in a diverse high school setting thanks to you. Julie, I can never thank you enough because your true passion is in education and serving and empowering our youth. Julie Oinonen, you are truly a blessing! [My son] and I thank you from the bottom of our heart for all that you do, and for caring!!!"
Continue reading →