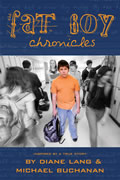 Good Georgia Lawyer invites you to attend tomorrow night's event, a screening of the fabulous film "The Fat Boy Chronicles" presented by Sandy Springs Education Force at North Springs Charter High School auditorium, Thursday, September 15th from 7:00 p.m. to 9:30 p.m. Click on the following link for more information: flyer-Family-Movie-Night-091511.pdf
A panel discussion will take place following the movie with author Michael Buchanan and the film's star, Chris Rivera.
If you have a child that is going through a bullying experience, this movie presents the perfect educational and entertainment opportunity. This film is about an overweight young teenager who is bullied about his appearance. The bullying makes school a very difficult experience for him. Yet he still manages to persevere, overcome his goals, lose weight and win over his dream girl.
Our law firm assists in protecting the rights of those harmed or injured due to a wrong or injustice, including bullying. Just a few of the many clients we represent involve families of those who have experienced bullying related issues.
For more information on Georgia law, please click on our bullying link and read the many informative articles we have already posted on our website.
To schedule an appointment with us today, contact Williams Oinonen LLC at 404-654-0288.