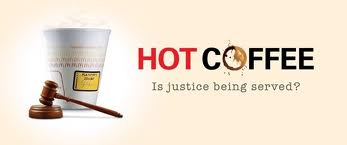 Good Georgia Lawyer invites you to attend a free movie screening of the fantastic film "Hot Coffee" at Emory University School of Law and hear film director Susan Saladoff speak.
Please view the following invitation by clicking here: Hot Coffee flyer.pdf
Williams Oinonen LLC is one of the sponsors of this event presented by the Center for Advocacy and Dispute Resolution at Emory University School of Law, 1301 Clifton Road in Atlanta, Georgia.
On Wednesday September 21, 2011, from 7:00 pm to 9:00 pm a panel of prestigious legal scholars will host a Round Table discussion concerning: "Are federal courts a fair and accessible forum?" This event will be held in Hunter Atrium, third floor of Emory University School of Law. It is free and open to the public.
On Thursday September 22, 2011, 4:00 pm to 8:30 pm we will present the movie screening of Hot Coffee, the exciting film by Susan Saladoff. Following the movie, we will proceed with a discussion of noted legal scholars and practitioners concerning this groundbreaking film.
4:00 pm–5:30 pm screening of "Hot Coffee" – Tull Auditorium 5:30 pm–6:30 pm Reception – Hunter Atrium 6:30 pm–7:30 pm Panel Debate: Reflections on Hot Coffee – Tull Auditorium 7:30 pm–8:30 pm Q&A with Susan Saladoff – Tull Auditorium
We hope to see you there!
For more information on the issues surrounding this movie, you can read our article here.