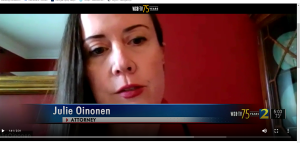 Attorney Julie Oinonen was recently featured on the news featured here regarding her expertise in educator ethics investigations involving the Georgia Professional Standards Commission (PSC) which is the state agency responsible for licensing, certifying, and disciplining educators in Georgia. Among its various functions, one of the PSC's most important duties is investigating allegations of educator ethical misconduct.
Any individual, including students, parents, colleagues, or administrators, can file a written complaint against an educator for unethical conduct. The PSC's Investigative Division then conducts a thorough investigation to determine whether there is sufficient evidence to support the allegations of misconduct.
During the investigation, the PSC may interview witnesses, review documents and records, and make site visits. The investigation aims to determine whether the educator violated the state's code of ethics for educators.