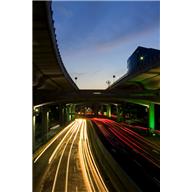 Good Georgia Lawyer is very concerned about the Governor's new plan to turn the emergency lane on the Ga. 400 into a travel lane. Governor Nathan Deal announced this new project to convert the highway shoulder that is typically used for an emergency lane as an additional lane for traffic. The emergency shoulder is currently used for ambulances, firetrucks, and police cars who need a speedy bypass for getting through congested traffic to reach an emergency or get a patient to the hospital in time.
Emergency services operators are all expressing their alarm. Even those who simply need to use the emergency lane in the event of a car break down now will not have an option to do so, thus increasing the dangers on this particular freeway significantly. Firefighters, police officers, and ambulance drivers are against the new plan believing it will put the public at risk.
Ga. 400 rush-hour commuters know how difficult this freeway can be as it has been recently ranked as one of the nations most unreliable commutes. Nevertheless, experts say that converting the emergency lane into a traffic lane will not ease the traffic that significantly and critics contend that the heavy price tag made up of safety losses make it not worth it.