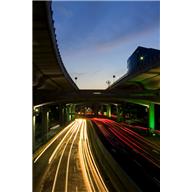 Good Georgia Lawyer is very concerned about the Governor's new plan to turn the emergency lane on the Ga. 400 into a travel lane. Governor Nathan Deal announced this new project to convert the highway shoulder that is typically used for an emergency lane as an additional lane for traffic. The emergency shoulder is currently used for ambulances, firetrucks, and police cars who need a speedy bypass for getting through congested traffic to reach an emergency or get a patient to the hospital in time.
Emergency services operators are all expressing their alarm. Even those who simply need to use the emergency lane in the event of a car break down now will not have an option to do so, thus increasing the dangers on this particular freeway significantly. Firefighters, police officers, and ambulance drivers are against the new plan believing it will put the public at risk.
Ga. 400 rush-hour commuters know how difficult this freeway can be as it has been recently ranked as one of the nations most unreliable commutes. Nevertheless, experts say that converting the emergency lane into a traffic lane will not ease the traffic that significantly and critics contend that the heavy price tag made up of safety losses make it not worth it.
Good Georgia Lawyer regularly represents Georgians who have been seriously injured or tragically killed because of a dangerous highway condition and thus we urge the Governor and Department of Transportation to consider other solutions before sacrificing highway safety.
For example, we recently represented a U.S. military sergeant who nearly lost her life due to a tragic automobile accident on a Georgia interstate when she was hit by a reckless driver, an admitted drug addict, who had been weaving in and out of traffic. She rolled through several freeway lanes of traffic before tumbling into the emergency lane and flipping into an embankment.
Fortunately for her, other witnesses and Good Samaritans had an emergency lane during the time of this collision where they were able to pull over and assist her in while they waited for emergency medical personnel to arrive.
This client of ours sustained serious medical injuries that she will sadly suffer the rest of her life. Shortly after the automobile collision, she retained a lawyer who wanted her to settle her claim for $30,000. Dissatisfied with the legal service she was rendered, she terminated him as counsel and subsequently retained her firm. We were very honored to be able to represent her and aggressively litigated the case preparing for trial. As a result of hard work and preparation, we were able to settle her case for the full policy limits, at a confidential six figure settlement.
She recently wrote to us the following:

"I was in a horrific car accident in 2009. I was hit by a drug addict. My car did 'three-sixties' on the highway and flipped over into an embankment. My car was totaled. By the grace of God I had no broken bones but I had several other injuries.
I was referred to an attorney who held onto my case for over six months and did absolutely nothing! Whenever I spoke to him I felt as though I was a thorn in his side. I finally realized that he was nothing more than a personal injury mill. He had no other attorneys assisting him with his multitude of cases. Therefore, he was overworked and had little or no time for his clients. He actually told me that he believed my case was worth no more than $30,000. He made this determination before even knowing the what the policy limits were of the guy's insurance who hit me. Additionally, I had more than $50,000 in medical expenses. So needless to say, I fired him!!! Then I was blessed with Mario Williams and Julie Oinonen.
Mario and Julie hit the ground running. I finally felt as though justice would be served and I would receive a decent settlement. They both worked diligently on my case. Whenever I called them they were available and extremely receptive. They treated me with respect and had genuine concern for my well being. When it was all said and done…They were able to get me a six figure settlement!!!!
Hopefully I will not have to use their services again…but if I ever need an attorney, I will definitely use them an no one else! Remember this name "Williams Oinonen LLC. They are the truth!!!!"

While we are grateful and honored to have been able to represent this United States Military Sergeant, we are also grateful that her injuries were not more severe. One reason this particular automobile accident did not turn out worse then it did was because the Good Samaritans and ambulance personnel who helped her had access to an emergency lane.
Good Georgia Lawyer urges the Governor and Department of Transportation to reconsider this plan for the Georgia 400. Nothing is worth more than keeping the safety of our Georgia residents first.