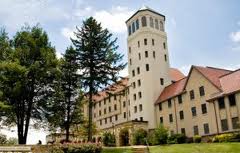 On Saturday, February 4th, Julie Oinonen, Partner at Williams Oinonen LLC was a guest speaker at Covenant College, on Lookout Mt. Georgia where she spoke to Covenant students who are considering law school. Covenant College is a four year liberal arts Christian college on Lookout Mountain, Georgia of which Ms. Oinonen is an alumna. Ms. Oinonen shared with students tips on getting into the best law school, succeeding while you are there, and figuring out whether a law career is right for you. Ms. Oinonen particularly spoke of her profession as a calling and how her faith informs her practice.
Ms. Oinonen is a partner at Williams Oinonen LLC, a civil litigation firm that also provides political consulting, campaign strategy, and opponent research for election campaigns. This is her second time speaking at Covenant College within the past year as her law firm has made a special effort to reach out to pre-law students at the institution.
The two other alumni speakers at the event were Mr. Pete Johnson and Mr. Cal Marshall, both licensed attorneys in the state of Tennessee. Mr. Pete Johnson an attorney at his own firm, handles corporate, real estate, wills, construction and development law. Mr. Cal Marshall is an associate Chambliss Bahner and Stophel P.C. in Chattanooga where he practices business and health law, assisting clients on compliance with federal and state regulations and business planning.
Williams Oinonen LLC is currently planning to host Covenant College students on April 13th in Atlanta, Georgia where they will be given a tour of the state Capitol, downtown courthouses, luncheon at the Commerce Club, and tour of Emory University School of Law in the afternoon.
Ms. Oinonen is an alumna of Emory University School of Law and both she and her law partner, Mr. Mario Williams are Emory University law fellows with the Center of Advocacy and Dispute Resolution. Williams Oinonen LLC is the only law firm in Georgia that boasts having both law partners as current fellows at Emory University School of Law.
Said Ms Oinonen about her experience at Covenant College on February 4th: "It is always a privilege to be able to spend time with the students at Covenant College. They are thoughtful, engaging, intellectual thinkers who develop strong critical thinking skills, an important component for legal minds."