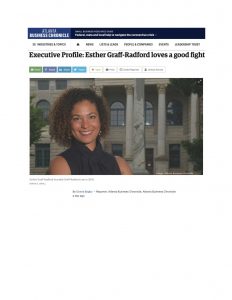 Attorney Esther Moody Graff Radford, Of Counsel with Williams Oinonen LLC was featured in this recent issue of the Atlanta Business Chronicle Executive Profile.
When asked, "What's the most rewarding part of your job?" Ms. Graff-Radford was quoted: "My favorite moment is when I connect with a new client and see the change in their demeanor and stress level when they realize they have someone in their corner. It doesn't matter if it's just an hour consultation or a years-long case; I love making sure my clients understand their matter and that they know they have an advocate. We can crack jokes about people saying, 'Call my lawyer.' But when you've been bullied by someone more powerful, or you feel forgotten in an immigration prison, that sentence is life-affirming. It means, 'Call my teammate. Call the person who has committed to put my interests first and protect my rights and amplify my voice.' My second favorite moment is winning justice or compensation for someone who has been wronged. It's a sacred trust to have earned the right be someone's lawyer; it will never get old."
Ms. Graff-Radford handles employment, whistleblower, discrimination, civil rights, and injury cases with Williams Oinonen LLC. She also has a thriving landlord and tenant practice and provides pro bono legal services to undocumented immigrants seeking asylum.