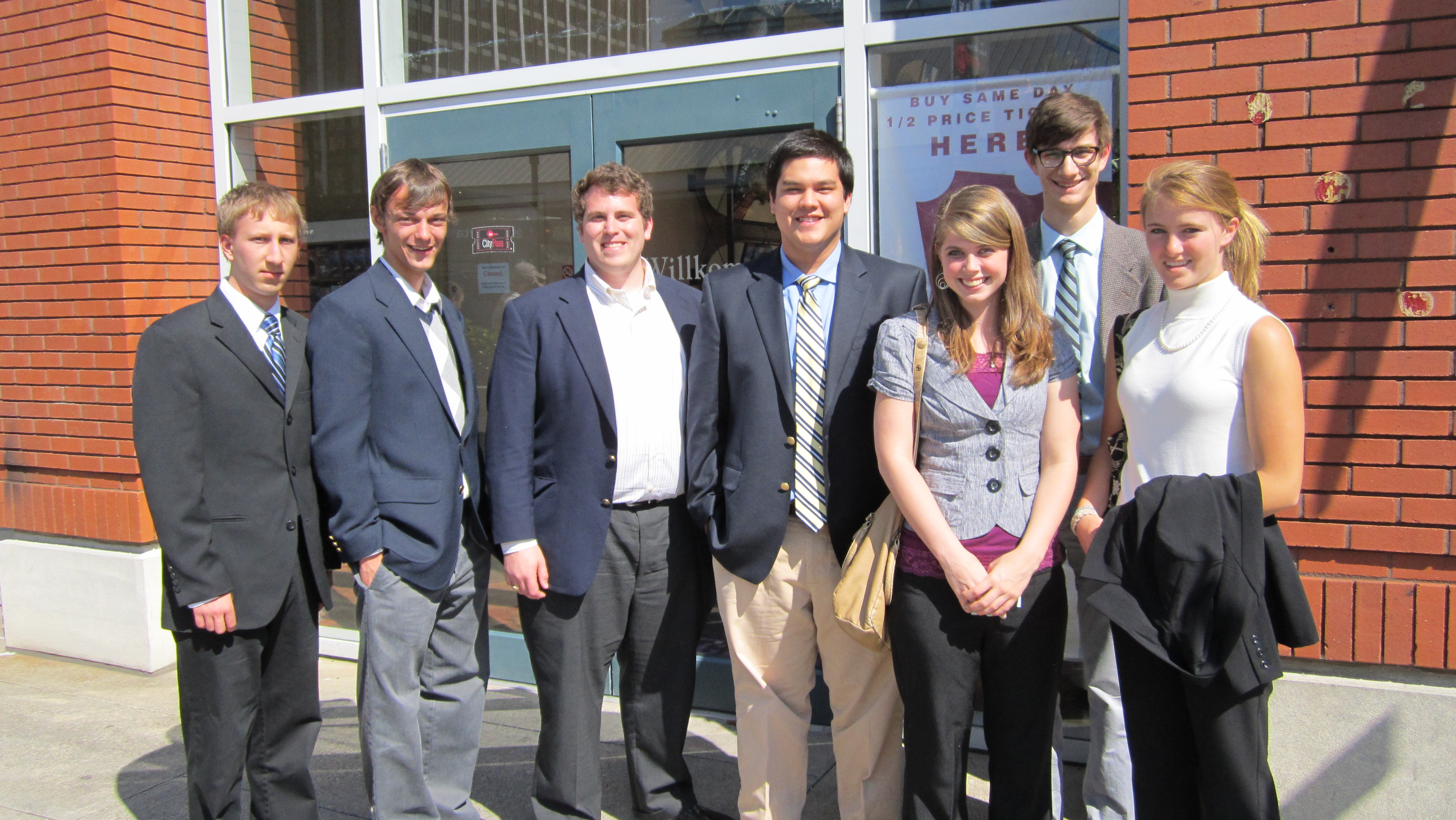 This past Friday Williams Oinonen LLC hosted a group of pre-law students from Covenant College for an all day excursion. Students left at 6 a.m. from Lookout Mountain, Georgia to arrive at the downtown law office in Atlanta that morning to meet Ms. Oinonen, an attorney at Williams Oinonen LLC who led the day trip.
The day started out with a visit to Emory University School of Law. The group arrived at Emory University around 9:15 a.m. to do a brief walking tour of the larger university campus as a whole and ended up at the law school building. They started the visit by attending an admissions presentation in the Emory Law School Courtroom and then participated in a student led tour of the law school itself. Afterwards, they attended a property class taught by Professor Frank Alexander which according to students was the best part of their visit at Emory. His lecture focused on the constitutional issues surrounding eminent domain. Prior to saying goodbye, they were introduced to the Dean of Admissions, Ethan Rosenzweig 02L
After the Emory Law School tour, the group travelled to the Commerce Club, of which Ms. Oinonen is a member to attend a special private luncheon. During this time, she listened to all of the students share stories of their time at Covenant College and answered questions about law school and the legal profession.
After the luncheon, the group took a tour of Fulton County Courthouse. After the tour, they were able to observe a felony child molestation trial and got to watch the criminal defense attorney give closing argument before the jury in the courtroom of Judge Kimberly Esmond Adams of the Fulton Superior Court.
An alumna of both Covenant College and Emory University School of Law, Ms. Oinonen is currently a Fellow at Emory University School of Law's Center for Advocacy and Dispute Resolution, adjunct faculty member at the Trial Techniques Program and an alumni advisor at the Tort and Insurance Society Practice Group for Emory Law students. Her practice primarily focuses on helping plaintiffs injured or harmed due to a wrong or injustice specifically in employment matters, education, and personal injury cases. She recently stated: "Some of the best part of my law practice is when I have the chance to work with young people at Covenant College and Emory University School of Law. There is no better way to give back then helping others and the students at Covenant and Emory are a joy and pleasure to work with."