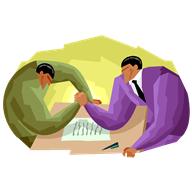 Good Georgia Lawyer recently just explained when a contract needs to be in writing to be enforceable.
Today's article discusses when contractual agreements are enforceable without writing, for example, an oral agreement between two parties. When should this matter? Well, for one thing, in the event of a contract dispute, not having a contract in writing would certainly matter. Contractual disputes sometimes hinge on the meaning of a contract. One party says that they were promised by the other party to do something and the other party claims otherwise. This is why, as a general rule, it is always better to make sure you have a contract in writing.
But what if you don't? One of the defenses to a breach of contract lawsuit lies in the statute of frauds defense as explained in the earlier article, some contracts need to be in writing to be enforceable.