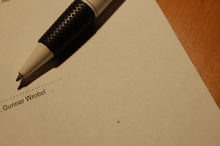 Many commercial contract agreements have provisions for attorney's fees in the event one party breaches the contract. The question is: what does Georgia law say about collecting attorney's fees from a contract? The Official Code of Georgia Annotated law, O.C.G.A. § 13-1-11, talks about the validity and enforcement of obligations to pay such fees.
Specifically, Georgia law O.C.G.A. §13-1-11 states that obligations to pay attorney fees and an interest rate shall be valid, enforceable, and collectable as part of a debt if collected by an attorney, as long as it is subject to the following:
(1) If your contract provides for attorneys fees in some specific percent of the principle and interest it will be valid and enforceable, but you can never charge over 15 percent of the principal and interest.
(2) If the term in the contract just doesn't specify a percent, then the provision will be interpreted to mean 15 percent of the first $500.00 of principal and interest and 10 percent of the remainder.
(3) You need to first notify the person who owes you the money in writing that they have ten days after receiving the notice to pay the principal and interest they owe without having to pay for attorney's fees. If they pay the principal and interest in full before ten days then they won't be obligated to pay attorney's fees. If the person who owes you the money refuses to receive delivery of your notice, it will still be considered giving notice.
You do however need to make sure you request the attorney's fees in your demand letter because if you don't include any reference to the attorney fees provision in your contract, then you have no right to them. And, if you need to sue to collect the money you are owed, a court cannot award you them either if you never provided notice. E.g. Quintanilla v. Rathur, 227 Ga. App. 788, 490 S.E.2d 471 (1997). Trust Assoc. v. Snead, 253 Ga. App. 475, 559 S.E.2d 502 (2002).
Since you do need an attorney to collect "attorney's fees," you do need to make sure you have competent legal counsel representing you in your business dispute involving a breach of contract.
But this is a good thing. Using an attorney's fees provision is a good way to make sure you cover the cost of your legal fees in the event you get into a business dispute. Having an attorney to help you navigate complex Georgia law is much better than going it alone. In fact, going it alone is the best way to end up in a bad situation. Unfortunately, many times our business clients come in after their situation leaves them with no choice other than retaining legal counsel.
Hire an attorney who can set up preventative measures that place your business in the strongest financial and legal position possible. Smart business owners know this and know that retaining an attorney in order to set up their business to ensure that preventative measures are in place is the best way to save money and make money down the road. For example, it is key that competent legal counsel draft your contract in order to carefully preserve your legal rights. Not only to protect your business interests, but also so they can do the " smaller things" ensuring that your contract allows you to collect attorney's fees in the event you must go to court for a breach. These "smaller things" end up being huge, in the long run.

Williams Oinonen LLC understands the needs of business owners. We understand business owner's primary concerns to success and help you do so in the most cost effective way. Consider calling us to schedule an appointment at 404-654-0288.