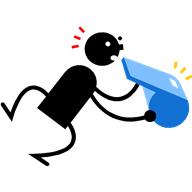 Yesterday, the Department of Justice and four states filed a multibillion-dollar fraud suit against EMC, the Education Management Corporation, known as the nation's second-largest for-profit college company. The states joining in the suit are California, Florida, Illinois and Indiana. The suit filed that EMC was not eligible for the $11 billion in state and federal financial aid it obtained from the United States government from 2003 through 2011.
The CEO of EMC was previously the head of the University of Phoenix, which has settled suits in the past related to very similar behavior.
While the civil lawsuit is one of many charging the ever growing for profit college industry, the case is the first where the U.S. government agreed to intervene on the whistle-blowers' claims that they consistently violated federal law by paying recruiters based on how many students it enrolled. The lawsuit alleged that each year, the for profit company falsely certified that it complied with the law, making it eligible to receive student financial aid.
The complaint alleged that EMC had a "boiler-room style sales culture" where admissions recruiters were told to use high-pressure sales tactics and exaggerated claims about career placement to increase student enrollment, regardless of a prospective students' qualifications. Recruiters were urged to enroll even those who were unable to write coherent English, who appeared to be on drugs or who applied to an online program but had no computer.
Under Georgia law, § 13-5-5, fraud makes a contract voidable and thus a student could sue for rescind the contract, to put herself back in the position she was prior to the contract. In this particular case, the "whistleblowers" are likely not students who have been hurt but former employees who may know of inside information on the company's fraudulent activity. This type of case is called a "False Claims," "Whistleblower," or "Qui Tam" lawsuit. It is based on a federal law (31 U.S.C. §§ 3729-3733) that imposes liability on persons or corporations who defraud the government.
The law includes a "qui tam" provision that allows people to "blow the whistle". Persons filing under the Act stand to receive a portion (usually about 15-25 percent) of any recovered damages. The government has recovered nearly billions of dollars as a result of these actions.
Good Georgia Lawyer has represented former students who have been exploited and mistreated by for profit colleges. For more information on whistleblower lawsuits, read our former article which explains whistleblower law further. If you have a potential whistleblower case, please contact Williams Oinonen LLC for more information.