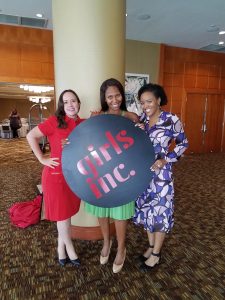 Williams Oinonen LLC was a proud supporter of the Girl's Inc. Annual Awards Luncheon held this past Friday at the Westin in Buckhead. This annual event featured WSB-TV's Jovita Moore as the keynote speaker. Scholarships to young ladies were awarded and a fantastic auction took place which succeeded in raising and surpassing its fundraising goal.
Since 1976, Girls Inc. Atlanta has provided educational programs to thousands of metro Atlanta girls through innovative programs that help girls confront subtle societal messages about their value and potential, and prepare them to lead successful, independent and complete lives. The programs include math and science education, pregnancy prevention, media literacy, adolescent health, child abuse prevention, substance abuse prevention, along with sports and cultural activities. To make a donation to this worthy non-profit organization, please click here.
Williams Oinonen LLC partner Julie Oinonen is grateful for the opportunity to serve as a member of the Board of Directors.