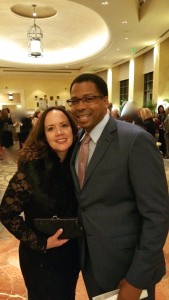 Congratulations to Mario Williams of Williams Oinonen LLC for winning the Clarkston City Council vote on November 3rd. He will be sworn into office on January 5, 2016.
Mario Williams first moved to Georgia two decades ago where he graduated with honors from Morehouse College obtaining a Bachelor's Degree in Political Science. Upon graduating from Morehouse, he worked as a Peace Corps volunteer in Central America for two years. Upon completion, he obtained his law degree at Lewis and Clark Law School in Portland, Oregon. Afterwards, he served as an international human rights advocate in Latin America. His work included drafting successful human rights complaints on behalf of indigenous people before the Inter American Human Rights Commission.
Approximately seven years ago he moved back to Georgia where he and his wife Julie started a law practice with a special focus in civil rights work. He is currently an attorney and partner at the downtown Atlanta law firm of Williams Oinonen LLC where he practices civil rights law, business law and government. Mr. Williams and his wife Julie are ranked by Superlawyers as Georgia Rising Stars, an honor solely awarded to 2.5 percent of lawyers in our state.
Councilman Williams and his wife chose to make their home in Clarkston, being drawn to it for the diversity and strong community. Having dedicated his entire life to Human Rights, Councilman Williams considers his role as a public servant a continuation of his advocacy work and is honored to serve the people of Clarkston.