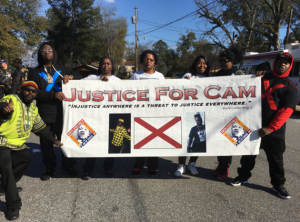 Good Georgia Wrongful Death Lawyers from Williams Oinonen LLC are honored to represent the family of Cameron Massey, wrongfully shot by a police Chief Ralph Connor who had been previously investigated for shooting and killing an innocent black man in the back years prior. These clients marched in today's Martin Luther King parade in Alabama.
Their story, in addition to many of our other civil rights victims' stories, are often featured in national and international media. Today's story in the Huffington Post tells the story of Cameron Massey which you can read right here. 
CEO Donald Watkins also has written a copyrighted article on Facebook you can also read here, where he tells the story where he investigated Police Chief Connor back when he was a police officer for the Montgomery Police Department and Watkins was a City Councilman. Watkins writes: "Not surprisingly, Chief Connor has a history of excessive force regarding the use of firearms. Cameron is the second innocent black man Connor has shot during his career as a police officer. While serving as a Montgomery, Alabama police officer in 1983, Connor shot a 23-year old black male. Connor claimed that he mistook the victim for a jail escapee. I investigated this police shooting as a Montgomery City Councilman. My investigation of the shooting revealed the following: (a) the victim, Bobby Joe Sales, had committed no crime; (b) he was unarmed at the time of the shooting; (c) he was not threatening Connor in any way: and (d) he was shot in the back. I reported to the City Council that Connor was a danger to himself and the citizens of Montgomery. I knew that Connor had a propensity for violence that would one day lead to the death of an innocent person. It finally happened on October 15, 2013 in Eufaula."
The family prays that there will be good and just people of Alabama sitting on the jury someday.