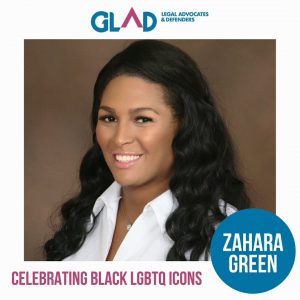 Congratulations to our client Zahara Green for her award honoring her as a Black LGBTQ Icon presented by GLAD, GLBTQ Legal Advocates and Defenders. Zahara Green has a civil rights case currently on appeal before the Eleventh Circuit concerning a terrible assault she suffered while incarcerated at an all male facility in Georgia. Oral argument is scheduled before the Eleventh Circuit this April.
Zahara Green is the Founder and Executive Director of TRANScending Barriers Atlanta, a trans-led, trans-issue focused non-profit organization whose mission is to empower the transgender and gender non-conforming community in Georgia through community organizing with leadership building, advocacy, and direct services so that lives can be changed and a community uplifted. She is also a board director and board treasurer of Black & Pink Inc, a prison abolitionist organization supporting LGBTQ and HIV-positive prisoners.
Her story can be read here. Both Michael Stipe and Elton John have released a joint statement in support of her which can be read here.