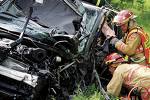 Good Georgia Personal Injury Lawyers Series on SUV Rollovers Continue:
NHTSA first addressed the problem of rollovers with the dynamic dolly rollover test in 1970. It was a voluntary standard, not mandated, and the auto industry used this to test vehicles for decades. In 1971, NHTSA "proposed a roof crush protection rule that would test both front corners of the roof on passenger vehicles." To summarize: both sides of a roof get crushed during the rollover: (1) the "near side" which is the term for the side of the roof which hits the ground first and (2) the "far side," which is the side of the ground that hits the ground last. During a rollover, both sides will end up very differently. The most serious injury to vehicle occupants occurs if they are sitting on the "far side" of the vehicle that makes contact with the ground last during the rollover. Thus, if you are under that "far side" of the roof during a rollover, you would likely end up suffering fatal injuries compared to if you were sitting on the "near side." Consequently, performing testing that only crushes one side of the roof–the "near side" that hits the ground first– completely masks the true devastating results of the roof crush during a rollover.
Shockingly, however, General Motors Corporation (GM) and the Automobile Manufacturers Association (which later became the Alliance of Automobile Manufacturers) have consistently and illogically argued that testing both sides of the roof was unnecessary because: 'in most cases roof structure damage is distributed to only one side of the roof in an actual rollover and that, because the roof is symmetrical it makes no difference which side of the roof is selected for testing.'" While it is true that roof crush damage is unevenly distributed to one side of the roof, it is the "far side" of the roof that receives the most damage that contains these car companies have not even been testing. It is the author's opinion that car companies sought to suppress the true results of a full and complete rollover test for fear that it would impact their bottom line in profits. Consequently, these auto manufacturers successfully pressured and lobbied for a one side roof crush test requirement, which NHTSA ended up adopting and which remains in effect today.
The problem with this test is that it was, and continues to be, insufficient. It does not fully test how a rollover affects both sides of a roof crushing down on each passenger. Consequently, because the auto industry persuaded NHTSA to forego the two sided test in lieu of the weaker one sided test, no improvements in roof strength were made. And this insufficient standard for roof crush tests is still in effect today. In 2008, a new rollover study showed that the federal government's roof strength standard does not protect vehicle occupants.
The Center for Auto Safety, the Center for Injury Research, and consumer advocacy group Public Citizen, released video showing crash-test dummies involved in traumatic impacts that would have been fatal or paralyzing to human occupants. The dummies suffered injuries "despite being restrained by seat belts and in vehicles that had receiving passing grades under the National Highway Traffic Safety Administration's (NHTSA) existing roof strength standard." The comparison, "sponsored by the Santos Family Foundation, involved the 2007 Pontiac G6, 2006 Chrysler 300, 2007 Toyota Camry, 2007 Volkswagen Jetta, 2006 Honda Ridgeline and 2006 Hyundai Sonata, which were tested on the Jordan Rollover System (JRS), a device designed to dynamically test the rollover occupant protection performance of motor vehicles."
This test conducted a complete rollover showing the results of both the "near side" and the "far side" of the vehicle after roof crush. Consequently, these vehicles had roof crush damage that would have resulted in fatal injuries for their passengers, and yet, they were the same ones that performed well in NHTSA's one sided roof crush test. The study underscored "the need for NHTSA to adopt a similar dynamic test for passenger vehicles and light trucks, rather than the current static method of testing, which tests the strength of a stationary, upright vehicle's roof but disregards what happens to passengers during a rollover, as well as a rolling vehicle's ability to withstand crash forces."
As Public Citizen President Joan Claybrook once stated:
"NHTSA – complicit with Detroit auto companies – has wasted years considering a static standard it estimates will save only 13 to 44 lives out of 10,800 rollover deaths annually. It has refused to use dynamic testing for a comprehensive standard to save thousands of lives and reduce head injury and ejection. The Congress, the next administration, and/or the courts will be asked by consumers to right this wrong."