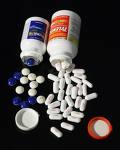 Tylenol, Motrin and Benadryl and several other over the counter drugs have been recalled after complaints of the pills having an unusual mildew odor leading to gastrointestinal problems. The Federal Drug Administration (FDA) has cracked down on the manufacturer Johnson and Johnson for not responding to these complaints and for a delay in resolving the issue that was first exposed in 2008. Consequently the FDA is giving the company 15 days to correct the problem as well as prevent future violations in addition to warning them of legal action, sanctions, and injunctions.
Recalled products include: Benedryl allergy ultratab tablets, junior strength Motrin, children's Tylenol grape meltaway tablets, extra strength Tylenol, extra strength Tylenol rapid release gelcaps, extra strength Tylenol PM geltabs, Motrin caplets, extra strength Rolaids fresh mint tablets, extra strength Tylenol rapid release gelcaps, and St. Joseph Aspirin chewable orange tablets.
Consumers can also call 1-888-222-6036 or log on to www.mcneilproductrecall.com in addition to calling their health care provider if they have any concerns.

Consumers are legally entitled to products that are safe when used reasonably and should not be at risk for injury or illness from a defective product like over the counter drugs such as Tylenol. If you've been injured from a defective product that has made you sick, the Georgia products liability lawyers of Williams Oinonen LLC can help you make a strong case against a negligent company.
Because of this, a successful product liability suit will not only benefit you, but will protect thousands of other consumers who might be using the same product. Contact us today at (404) 654-0288 to speak with an attorney about your options.