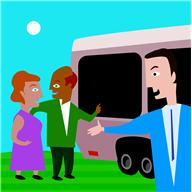 Recently, a client hired us to solve a legal question/problem about a used mobile home that they recently purchased:
Question:

Dear Good Georgia Lawyer:
I recently purchased a used mobile home from a mobile home dealer. They never told me that they were selling it "as is". They never gave me any "as is" implied warranty disclaimer form until after I had made the purchase. Then they suddenly tried to claim there was no implied warranty. Unfortunately, the very day after I purchased it, the engine exploded destroying the front part of the mobile home. Do I have a claim for breach of implied warranty?
Answer:
In this situation, the sellers never provided you the implied warranty disclaimers disclosures prior to the sale of the mobile home. O.C.G.A. §11-2-314 holds that unless excluded, a warranty that the goods shall be merchantable (fit for the ordinary purpose for which goods are used) is implied in a contract for their sale if the seller is a merchant with respect to goods of that kind. Georgia courts have held that an implied warranty is not excluded when a paragraph written in same size and color type as all other paragraphs on back of form fails completely to comply with O.C.G.A. § 11-2-316 for excluding the warranties implied by law in O.C.G.A. § 11-2-314. Chrysler Corp. v. Wilson Plumbing Co., 132 Ga. App. 435, 208 S.E.2d 321 (1974).
Additionally, Georgia courts have held that a waiver must be clear and certain. Contracts intended to waive implied warranties written into the sale by law should be clear and certain on that point. Wilson v. Eargle, 98 Ga. App. 241, 249, 105 S.E.2d 474, 479 (1958) (decided under former Code 1933, § 96-301). Furthermore, the courts have determined that an inconspicuous disclaimer in installment contract could not constitute exclusion of implied warranty of seller that mobile home was fit for ordinary purposes. BCS Fin. Corp. v. Sorbo, 213 Ga. App. 259, 261, 444 S.E.2d 85, 88 (1994).
Moreover, Georgia courts have ruled that a writing would, regardless of its "conspicuousness," be ineffective to disclaim the implied warranty of merchantability if that writing nowhere specifically mentions "merchantability." Leland Indus., Inc. v. Suntek Indus., Inc., 184 Ga. App. 635, 362 S.E.2d 441 (1987).
Because the sellers never once made any mention of "merchantability," or "as-is" or provided you with any type of implied warranty disclaimer prior to the sale, then according to the law they failed to disclaim the implied warranty of merchantability. Consequently, you do have a legal claim against them for breach of implied waranty.