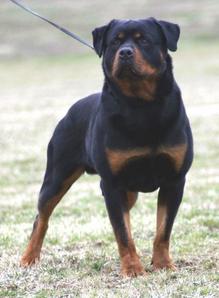 Recently, a pit bull attacked a pregnant woman who lives in Cobb County, Georgia. The pit bull initially attacked the woman's dog but then attacked her. Luckily, the courageous woman kicked the dog and then grabbed its neck to protect her unborn child. We hope that both the mother and child are okay.
Everyday dogs attack people and leave their victims with serious injuries ranging from serious head trauma, facial lacerations, permanent disfigurement, broken bones, severe scarring, and sometimes death. In Georgia, as with everywhere, many times the victims are young children and the elderly. And as a person that has experienced several dog attacks, I also understand how psychologically traumatizing (long term) a dog attack can be. You/your loved one deserve to be compensated for the injuries and damages caused by dog bites, and vicious dog attacks.
We have written about dog attacks before on this blog. In that article we focused on the nuances of Georgia law that may prohibit you from maximizing your recovery, if you do not choose your lawyer wisely. In this article however we want to focus on what you should do immediately after being bitten by a dog, to help protect you and others, and to maximize your recovery for the injuries caused by dog bites, and vicious dog attacks. Whether you live in Dekalb County, Cobb County, Fulton County, Floyd County or Whitfield County, as long as you live in Georgia, you need to consider taking the following steps after being attacked (bitten):
1. Immediately seek emergency medical attention for your injuries;
2. Identify the owner of the dog that bit you and get his or her name, address, home telephone number, and social security number (if possible);
3. Take photographs of your injuries and preserve any torn clothing;
4. Detail, in writing, what happened to you (if you are in a condition to do so), being as specific as possible;
5. Do not talk to any insurance adjuster!
6. Contact a good dog-bite lawyer; and
7. Immediately contact your county's animal control authority. Here is a list of a few:
a. Fulton County Animal Control, click here
b. Dekalb County Animal Control, click here
c. Cobb County Animal Control, click here
d. Gwinnett County Animal Control, click here
e. Whitfield County (Dalton, GA) Animal Control, click here
f. Floyd County (Rome, GA) Animal Control, click here
Your animal control authority can do a few things to help you. First, if a dog bites anyone, it must be quarantined to see if it shows signs of rabies or being vicious. Second, animal control can determine if a citation can be issued against the owner and then, animal control can issue a citation or ensure that a citation is issued against the owner of the dog that bit you. Reading our other article will demonstrate the importance of the citation with respect to a violation of local leash laws and your ability to maximize recovery for your injuries.
As stated, contact a lawyer immediately, tell the lawyer about the incident, and get feedback. Typically dog bites cases involve homeowner's insurance coverage and you will need a good lawyer to deal with this process because the insurance companies' goal is to pay you as little as possible for your injuries. That means the company will attempt to convince you to settle your case before you understand the full extent of both your injuries and your legal options.
You also need a good lawyer to protect you from your own health insurance company. Many times your health insurance company will seek reimbursement for medical expenses it paid on your behalf. A good lawyer will know how to shield you as much as possible from this situation. Other issues may involve worker's compensation and federal assistance. The best option is to find an attorney who has effectively handled dog-bite cases.
Your compensation will ultimately depend on the facts of your case as they apply to Georgia law, and the extent of your injuries, especially long term. You need a lawyer who will maximize your negotiating position and demonstrate a conviction to take your case to trial, to ensure that you receive the compensation you deserve.

Contact Williams Oinonen LLC LLC. We will give you an initial consultation.