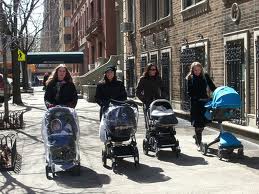 Two million strollers from the Atlanta-based Graco Children's Products Inc. are being recalled because of strangulation and entrapment risks.
The recall comes after four strangulation deaths have resulted from the strollers. Children also have become trapped in the strollers and injured with cuts and bruises. Infants who have not been harnessed have slipped through the opening between the seat's bottom and tray, and the infant's neck has become entrapped and strangled.
The recall includes older versions of Graco's Quattro Tour and MetroLite Strollers and travel systems sold between November 2000 and December 2007.
The strollers were sold all across the country at stores including: Kmart, Walmart, Target, Sears, Babies 'R' Us, Burlington Coat Factory, Meijers and Sears.
For more information about the recall and to find out the specific models visit: http://www.cpsc.gov/cpscpub/prerel/prhtml11/11015.html
To avoid stroller injuries, make sure that you do not use recalled strollers and always make sure your child is strapped in properly. If babies aren't strapped into the strollers carefully, they can slip through the opening between the stroller tray and bottom of the seat — where they can get stuck and be strangled.

If you are a parent whose child has been injured or killed from a stroller or due to the negligence of an individual or corporation, contact Williams Oinonen LLC to learn more about your rights in filing a wrongful death claim.