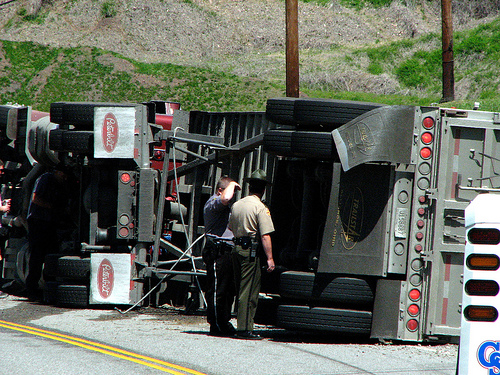 Good Georgia Truck Accident Lawyers praised the recent U.S. Transportation Secretary's announcement that 109 commercial truck and bus drivers were removed from public roadways as a result of the Federal Motor Carrier Safety Administration's annual alcohol and drug sweep this summer.
Said US Transportation Secretary Ray LaHood: "If you are a commercial driver or carrier operating in violation of federal drug and alcohol laws, we will remove you from our roadways." Additionally, he stated: "Parents deserve to know their children are being driven by bus drivers who are drug and alcohol free, and every motorist deserves to feel confident that the drivers of large trucks and buses are safe and sober."
The sweep was done by an investigation into the alcohol and drug safety records of all truck and other commercial drivers employed by bus and truck companies including hazardous material transporters, school bus drivers, interstate passenger carriers and general freight truck drivers.
The goals was to identify those offenders in violation of drug and alcohol testing and remove them from the road. The terrifying fact is that there are truck drivers who move from company to company just to evade the federal drug and alcohol testing and reporting requirements.

The Federal Motor Carrier Safety Administration warned that they are committed to ensuring that only safe truck drivers are allowed to operate. Unfortunately, there are truck drivers all over the country who have violated federal laws wreak havoc on public safety. Families all over Georgia have lost loved ones and been seriously injured due to the terrible negligence and criminal acts of truck drivers who recklessly take to the roads putting Georgians at risk.
If you know of someone who has suffered due to a truck driver's negligent acts, Williams Oinonen LLC is committed to bringing justice to Georgians who have been injured due to truck driver negligence. Please call us today to discuss how we aggressively fight the trucking companies who break laws and negligently allow dangerous truck drivers on the road risking the lives of our loved ones.
Continue reading "Georgia Truck Accident Lawyers Praise Crack Down on Truck Drivers Who Purposely Evade Drug and Alcohol Testing: Georgia Trucking Accidents Part Four " »